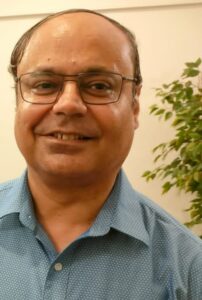 Haroon Khalid Akhtar is an award-winning author. His novel 'Melody of a Tear' won the UBL best debut fiction award 2020 and enjoys a 4.3 rating on Goodreads. He also authored an anthology 'Threadbare' and another novel 'The Liar's Truth'. Haroon speaks to Karvan in this exclusive interview. Professionally, he is a banker, working in a leading bank and heading its Compliance and Financial Crime function.
1. Tell us about yourself
The conventional reply is this. Professionally I am a banker and currently heading the Compliance and Financial Crime function of a leading bank of Pakistan. But if you want to know my truth, you may like to read the chapter 'His truth' in 'Melody of a Tear'. I am made up of music and literature which makes me come alive. Basically, my journey is no different from many other boys growing up in the 80s. In the quest to become someone, my family and I fell on the most reliable of options- the MBA bandwagon of the times. From DJ to Commerce college and then to LUMS. My father Mohammad Khalid Akhtar – the eminent writer of "Chakiwara mein Wisaal" and several other books – ensured that I was raised in a house full of books. Initially, I was fed on children's books both local and international and then dived into classics. I devoured everything that came my way. Amir Hamza, Inspector Jamshed, Taleem o Tarbiat, Time, Newsweek, works by Charles Dickinson and Rider Haggard and so forth. The urge for expression led me to write for Dawn for several years. Essentially, I am an introvert who takes refuge in music, movies, and books and feels at home.
2. What compelled or inspired you to write The Liar's Truth?
My first novel 'Melody of a Tear' was a complex, long-drawn project and hence I call 'The Liar's Truth' (TLT) a release novel. It returned me to the days when I wrote satire and humor for Dawn and which to my wife – who is also a poetess and novelist with two MS ready – is my natural style of writing. The subject of TLT came to me also naturally. For years, I have imagined myself as the PM of the country, ruling with all my sincerity, heart, and emotions. I feel if rulers can devote themselves to the cause of changing people's life instead of enriching themselves, things will dramatically change for the better. Coming from a literary background, I know the true way to achieve contentment. And the first thing is to stop self-aggrandizement. Like my father, my joys are simple- good music, good books and magazines like 'The Economist' and being in the company of loved ones. With their help, the need for money can be easily dodged. With these easy needs, a person like me can work for a larger cause much more comfortably which in turn can become his real motivation. Hence TLT is an attempt to fulfil the dream that I know I can't convert into real life.
3. Did you ever think the story of The Liar's Truth will one day become similar to the political situation the country faced in April 2022?
Not at all. Pakistan's political history has had its share of conspiracies like Bhutto's hanging which did inspire me to a certain extent for TLT. But the real aim was to write a flowing novel about a person who is full of humor which compensates for all his shortcomings, someone who is a sensitive, empathetic person from the inside and who certainly does not belong to the corporate world.
4. When writing, do you first create a plot or do you carve a story around a protagonist?
Creating a plot is vital for me. First comes the idea which ignites the fire inside – A PM whose biggest asset is love, who hates accumulation of wealth. For Melody of a Tear, that first spark came via my subconscious, my first tears about a man with a squint and about my imaginary friend Bahadur in Multan. Characters then become the vehicles to propel that basic idea forward. With each line and page, these characters dictate their terms and become what they want. To be honest, I have little control over them. If I try to intervene, they object. You see, you can't be illogical. Once you have placed them under a circumstance, they must behave accordingly, and rationally. But I love them the most when they behave irrationally like Arsalan or Zara of Melody of a Tear.
5. You are a banker by profession and an author by passion. How do you make time for your writing given that bankers need to focus on the job throughout the week?
For years, I have worked on weekends. A bank job is tough with long hours, so I can't sit down at night or wake up early. It has to be on weekends. To be honest, I did try to write during lunch hour but the quality was awful.
6. What impact did your Late Father, Mr. Mohammad Khalid Akhtar have on you in becoming an author?
Baba introduced me to a world that opened the doors of my imagination. He bought me books, books, and more books. As a child, I felt and imbibed the sacredness of books. I realized that there was one world on the surface but another where I can soar. He never knew in which class I studied or when my kidney stone came out in urine, but he was constantly feeding me literature, his antidote for everything. Through him and my maternal Uncle Ayyaz, I learned what a higher taste looks like. Uncle Ayyaz also loved books and I read many from his library. My trips to Feroze Sons Lahore (burnt down now) with Baba remain an integral part of my childhood.
7. What advice will you give to aspiring writers?
Be honest with yourself. Look for a unique story within you. Draw on moments that have genuinely moved you. Never be scared of what the world would think of you if you came out truthful or imaginative. Truth is critical behind every story but settings can still be fantastic. Then, be ready for the long haul. Learn the language well and the best way to do this is through extensive reading. Then write drafts after drafts. Keep improving them. Seek originality and remove contradictions through this process.
8. Your message for the youth of Pakistan?
Don't become surface-guys only. Take interest in how the world has progressed. Become open to ideas, and others' points of view. Immerse in astronomy to know the biggest truth about humans and our scale and the unknown mystery about the universe. Gain knowledge through learning and perhaps above all, keep reading the best fiction that the world has to offer. Raise your taste in music, movies, and the quality of friends.
---
KARVAN envision to showcase the best and the brightest talent from Pakistan. If you have achieved an academic, personal or professional milestone, or know someone who did, do send us a brief profile at talktokarvan@gmail.com.
Find us on Facebook: @talktokarvan
---