Waniya Aneel is a fourteen-year-old author from Karachi, Pakistan. She is obsessed with literature and loves to read. She is the author of "Sophie James & The Untold Truth" which is available for pre-order. She talks to Karvan in this exclusive interview.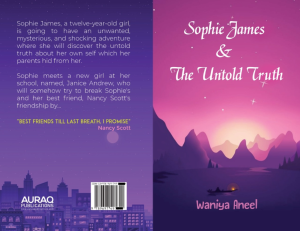 1. Tell us about yourself?
I am Waniya Aneel. I was born in Karachi, Pakistan. I have always been a fan of  fantasy and used to imagine my fantasy worlds. I am an introvert and spend most of my time reading books. I am also learning and aspiring to become a graphic designer. I also review books on my Instagram handle: @waniya_aneel.
2. What inspired you to write Sophie James & The Untold Truth?
I imagine my fantasy worlds. I wondered why not use my imagination to write a book. I also portrayed the value of friendship through this story. My dream was to become an author and I got support from my friends. And here I am – a published author.
3. Which Pakistan and foreign authors have you read and have liked their works?
I have read quite a few books. I like the writing style of Pakistani writer, Kinza Asghar Khan, who is also known as Akasious. I read her book, "Ashes of Feelings", and I fell in love with the book. Among the foreign writers, I like Leigh Bardugo and Holly Jackson. Their trilogies were quite interesting and I enjoy reading them.
4. At such a young age of 14 you are a published author. Who motivated you to read and write at such an early age?
My best friend and my family have continuously motivated me to write. I am also a self-motivated person. At one time I wanted to give up on this book as I became tired of editing and re-editing. But I had kept myself going as this was my biggest dream yet.
5. Can you share how readers can pre-order your book?
Yes sure. Readers can pre-order my book from the link mentioned below. Also, my book's age rating is 7+ years so even teenagers can read it.
https://auraqpublications.com/product/sophie-james/
[easy-image-collage id=2560]
6. What is your message for the youth of Pakistan?
My message to the youth of Pakistan is to focus on yourself. Work hard to achieve your dreams and never stop chasing them just because someone made fun of you. You should keep moving forward and fight all of the battles in your life with courage and fearlessness. Be your own leader!
7. How do you manage your time between writing and studies?
That is a very interesting question. It was quite hard for me to manage my studies and my writing but somehow, I did. Weekends and vacations were for focusing on writing and of course, weekdays were designated for studies.
Waniya Aneel's social media handles:
---
KARVAN envision to showcase the best and the brightest talent from Pakistan. If you have achieved an academic, personal or professional milestone, or know someone who did, do send us a brief profile at talktokarvan@gmail.com.
Find us on Facebook: @talktokarvan
---