Huda Arshad is an aspiring teen with a mission to change the world through her literary endeavors. 
1. Tell us about yourself
I am Huda from Bahawalpur, Pakistan. My age is 15. My book 'A Deep Ocean' was published in October 2020 by Auraq publications. I am also the founder of the e-magazine 'Let's pen down'. I am currently a student of matriculation, a scientific researcher, and a motivational speaker.
2. What is your book "A Deep Ocean" about? 
My book "A Deep Ocean" is about motivations, inspirations, handling afflictions, tragedies, and love with Allah. I have named it so because I have written it with deep thoughts akin to that of an ocean. Reader's reviews are positive and this has motivated me as I have been writing it for months. The book includes poetry and prose.
3. What inspired you to write this book? 
I have been asked this question the most. Writing is my passion since childhood. I used to write poems and my thoughts. I thought to publish all of them in the form of a book. Books present an author's legacy.
4. Share with us details about your magazine, "Let's pen down"? 
Let's pen down (LPD) is a free platform, an e-magazine, for the talented youth mainly for young writers. I began it on July 7, 2020. I developed its website and social media accounts. I learned a lot by working for this. The first contest of my magazine is currently in progress based on Kashmir. We publish the writer's work on our website, social accounts.
5. What inspired you to launch this magazine and from can we read it? 
I established LPD to support young writers by publishing their works and sharing them with the world. You can read previously published works of LPD on the website: letspendownn.wordpress.com, by visiting our social accounts. Writers can get an opportunity to show their talent by participating in the current contest of LPD.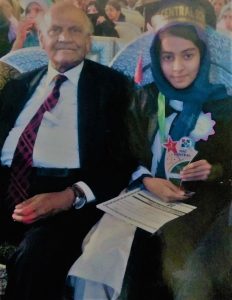 6. At the age of 15 you are working on your initiative, "Scientific Highway". What is it about? 
I love researching different branches of science. 'Scientific highway' will be basically about scientific research. I have created its YouTube channel and uploaded some videos. Its website is under development. This is a big initiative for me.
7. What are your plans? What do you want to do for Pakistan? 
I have a lot of future aims and plans. My vision is to serve this country. Either I serve it by becoming an officer, leader, or in another role. I believe in the ideology of Jinnah. And I want to become a leader like him. I want to make Pakistan peaceful, powerful, and educated. I also want to join the Pakistan army and be martyred for my beloved motherland. There are many hidden talents in Pakistan. The majority of them are our youth. Once they are discovered and promoted they can create a better future for Pakistan. I aim to promote such talent.
8. Your message for the youth of Pakistan?
Quaid-e-Azam said "Pakistan is proud of her youth, particularly the students, who are nation builders of tomorrow.
My message for the youngsters is that life is a golden chance. Life isn't given again. Turn your minds a source of positivity. Spread awareness and work day and night for the development of Pakistan. Every human being is blessed with some ability. Nobody on this planet is worthless. Recognize yourself and your ability, and see how you can serve your country. Set your goals and complete them. Strive for productivity and betterment. Impose Faith, Unity & Discipline in your life. To those who are writers, my message is, "Allah has blessed you with the power of the pen, use it in the positive direction and let it create awareness among the people."
---
KARVAN envision to showcase the best and the brightest talent from Pakistan. If you have achieved an academic, personal or professional milestone, or know someone who did, do send us a brief profile at talktokarvan@gmail.com.
Find us on Facebook: @talktokarvan
---