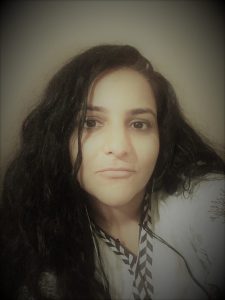 Fatima Ijaz is a poet and her book, "The Shade of Longing and other Poems", was published by The Little Book Company in December 2021. She teaches English and Speech at Institute of Business Administration (IBA). She talks to Karvan in this exclusive interview. 
1. How do you define poetry?
Where the line between what is possible to say is blurred with what you'd never really say in direct speech. You are in a sense in 'music' with reality. Poetry is uncensored, lyrical expression.
2. Does poetry come naturally to you or is it a result of observation, introspection, or something else?
I believe in the poetic initiation – at least, that is how it happened to me. It's a secret path in a forest that opens to you specifically at this moment. You wander into it alone, as you turn back, the path is closing, wildflowers appearing to restrict any trespassers. The initiation is usually a moment of heightened perceptivity; you can suddenly see and hear different. If you are not afraid, you will begin to visit this path often, and this poetic world will start opening its strange secrets to you.
3. Your debut collection of poetry, The Shade of Longing and Other Poems, has various poems treading on the lines of memories and longings. From where did such emotions build up?
If you'd allow me to say…this book started for me akin to Cleopatra's words: "Give me my robe, put on my crown; I have/Immortal longings in me." I wore the poet's robe and crown, and sat down to write what I simply couldn't resist any longer. Where did these longings come from? Perhaps from failure, loss, or rejection but also love, hope, and desire!
4. What are your plans for writing prose?
Funny you should ask. I do want to write prose. I have often written poetic prose (including Digress, Memory 1, The Smile of Mona Lisa which are in The Shade of Longing) but I do wish to step into the waters of storytelling. I have a collection of short stories from a few years back and I do keep practicing with the genre. Recently I had some courage to share a romance I wrote with an editor, and I got encouraging feedback. I am also looking keenly at memoir writing.
5. Readers perceive a visual representation of the words in a poem, and prose, according to their thought processes. Does this enthuse you when writing poetry?
Once a written piece is in the world, it is alive and has a life of its own. It will travel and yes, could mean different things to different people. This excites me, and I love to know how a reader is reacting to or perceiving my work. I'm not too territorial or judgmental about different views, though I might have my understanding of a work.
6. In the section, 'Barzarkh' of your book, you share the story of an eternal traveler who "live in a shadowy limbo where you may live but never belong." What led to the manifestation of this thought?
The 'not here, not there' is like a time capsule where you are not in the past anymore, but aren't really even in the present; as you look back and are in a dream-state – where are you really? This is a shadowy realm, and again, solitary by its very nature. You cannot belong here as there is no furniture here; it can't ever be occupied. Time cannot stop even in this state of stopped time, and as they say, the show must go on.
7. Your advice for aspiring poets?
Remember to listen to everyone, and understand everything – but also remember to hear the beating of your own heart. It is not a crime to be individualistic.
8. Your message for the youth of Pakistan?
Think about what matters to you and ask yourself why it does. Get to know yourself better. Don't let anyone else decide what should be deserving of your fierce loyalties, your friendships, or your undying love. If you turn out to be wrong, you still got to know your real self and made your own choices. This is superior.
Fatima Ijaz is a contributing editor at Pandemonium Journal. She has studied English at Hartwick College, USA, York University, Canada and Eastern Michigan University, USA. Her poetry and short stories have been published or are forthcoming in numerous publications including The Aleph Review, Kyoto Journal, Ideas & Futures, The Missing Slate, Tillism, Tales from Karachi, The Write Launch, Rigorous and the Bombay Review. She was a poetry reader and panelist at KLF (2020 – 2022), Bradford Literature Festival (2022) and Quetta Literary Festival (2022). She writes on culture and literature in Naya Daur, The Friday Times and Dawn.
---
KARVAN envision to showcase the best and the brightest talent from Pakistan. If you have achieved an academic, personal or professional milestone, or know someone who did, do send us a brief profile at talktokarvan@gmail.com.
Find us on Facebook: @talktokarvan
---