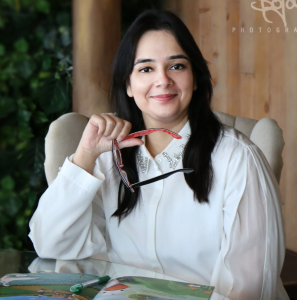 Maheen Zeeshan, the author of Talha and Aminah Tales, aims at developing children's personalities through the stories she crafts. She talks to Karvan in this exclusive interview. 
1. Tell us about yourself?
I was born and raised in Karachi, pursued my MBA, and started working in a prestigious bank in the same city. It was a dream job with great colleagues, work environment, and incentives. Little did I know in 2010 I will bid farewell to my family, friends, work, and dear Karachi for a journey to South Korea. After marriage, I started in-house language classes in Korea. We moved to Qatar and I started teaching in a school. I discovered Biff, Chip, and Kipper series and thoroughly enjoyed reading it with the children. In 2016, I moved to the UAE and that is where things started to change. I developed a social circle, played an important role in society, was elected as President of the Parents' advisory board in Gems Winchester School, and most importantly started to write children's stories. I enjoy interacting with people, adding value to my conversations with interesting topics, and writing.
2. What inspired you to write Talha and Aminah tales?
When we used to visit Pakistan during summers, we religiously bought a stack of reading books from Oxford University Press outlets. The books were age appropriate and became our bedtime favorite activity. Our family's favorite is The silly story of Bonda Land. When I saw my kid's interest and how they could relate to the illustrations, I decided to pen down their experiences. A school trip to a Fire Station was the starting point. Biff, Chip and Kipper stories, Enid Blyton, and Roald Dahl all inspired me to write for children
3. Are you planning to write a novel?
At the moment I have two completed manuscripts with me as they are seeking their way to a publisher. Yes, I am working on a novel as well, and hopefully, I will finish it next year.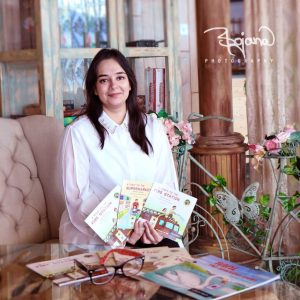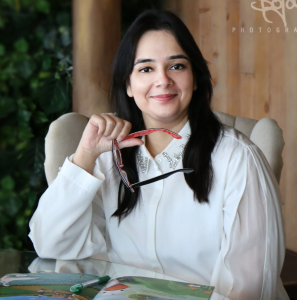 4. Share with us about your guest talk at the recently held The Magical World of Children's Literature in UAE?
The event and the turnout were phenomenal. Almost everyone came to support us. The children had been rehearsing for the show since January, however, due to the pandemic, we kept on postponing the show. This idea was there to host a musical event around my books. I am highly indebted to the Tennis and Country Club Fujairah for providing a platform for this show. The event was based on my books. We read one title, presented a short skit on "A visit to a Dentist" and did an activity for "Rani the beautiful Swan". For each title we had songs, Mr. Danillo's piano tunes were the soul of the show and Tias' violin was very pleasing to the ears. The children were brilliant. Not only did they sing well but were very confident. Again I would like to thank the parents for their continued support.
5. What steps will motivate children to develop a reading habit?
A reading corner is a must to bring kids to the table to read. A small budget friendly setup at home with a variety of age-appropriate books will seek children's attention. Similarly, bedtime reading should begin at a very young age. Schools should encourage role plays and musicals with different titles. If children consider reading as a fun activity instead of a task, more will pursue this activity.
6. How important is it for schools to teach writing skills to students?
Read and you shall develop a world of your own to write. In my childhood, I was an avid reader. Young World, Reader's Digest, Archie comics, Sweet Valley High, and the Hardy Boys were my favorites. Reading helped me improve my vocabulary, and sketched a framework to present my ideas. This led me to write for Young World. Schools should encourage reading and introduce writing competitions for stories, poems, and skits. If it's a task it will never gain momentum, if it's fun it will pull children towards it.
7. What tips will you share with the aspiring writers of the world?
Read and write! Don't give up. Write in your local magazines to boost your confidence. It's a struggle to find a good publishing house and then the right people who will appreciate and promote your work. I had a fair share of my struggles when my emails were ignored, messages unseen but I was and am very adamant to learn, grow, and be recognized. Everything on the paper is precious so keep on writing. Make a blog for your writings.
Note: The images were provided by Maheen Zeeshan.
---
KARVAN envision to showcase the best and the brightest talent from Pakistan. If you have achieved an academic, personal or professional milestone, or know someone who did, do send us a brief profile at talktokarvan@gmail.com.
Find us on Facebook: @talktokarvan
---