Rumana Husain is the author of two coffee-table books 'Karachiwala – a Subcontinent within a City' and 'Street Smart – Professionals on the Street'. She co-founded NuktaArt – a bi-annual art magazine, and was its Senior Editor. She talks to Karvan in this exclusive interview regarding her life, career and her passion to add value children's content in print and digital media.
Profile of Rumana Husain: 
Rumana Husain is an award-winning author of three children's books, published in Pakistan, Nepal, and India, and has written and illustrated over 60 other children's books for several publishers, including Oxford University Press and the Bookgroup, which she co-founded in 1988. Rumana Husain has been an innovative school head of the CAS School from 1986 to 1996 when the school was in its formative years.  From 2001 to 2008 she worked as Head Activism & Outreach at the Children's Museum for Peace and Human Rights (CMPHR), and continues to work as an educational consultant and teacher-trainer. She is a Director on the Board of the Children's Literature Festival (CLF), General Secretary of the Karachi Conference Foundation, a Founding Member and Member of the Executive Committee of a social movement, I AM Karachi, and is a Member of the Advisory Committee of the International Public Art Festival – IPAF.
1. From being a writer to a teacher of art; from being a teacher-trainer to a book illustrator, how do you manage so much?
I blame the above to our archaic education system and the terrible textbooks that continue to be taught to the majority of our children.
On a serious note, many of the current teachers have also grown up in the same system, and read the same books. But I am no messiah, set out to put it all right. I contribute whatever little I know, in my small way. I had the most inspirational and absolutely fantastic teachers. Please remember that when I was growing up, our country and its people were quite different from what they have come to be in the last four decades or so. Moreover, these are some of the things I am passionate about, so it's self-serving too.
[easy-image-collage id=2348]
2. You cofounded 'Bookgroup' in 1988. At a time when there was no social media or ease of communication, how did you manage it and what objectives did it serve? 
In a way, the Bookgroup came into being in 1986, when a new private school was established and it was seen that children took no interest in Urdu at all. I couldn't blame them, as the Urdu textbooks were most uninteresting and uninspiring.
My husband, an architect by profession, used to collect beautifully illustrated children's Urdu storybooks that he used to buy in Karachi. The most interesting fact about those was that they were published in China, Russia, and India. You read it right! Many countries have been doing this: original children's books in their languages are translated into different languages of the world, and then sent out to those countries. Anyway, I thought it would be good to experiment, for the Urdu teachers to use those books in the classrooms instead of the usual black and white and sanctimonious textbooks. That experiment worked, and children were attracted to the colorful illustrations, and the language itself.
From this originated the idea of creating our books in Urdu. I was heading the school then and worked as a volunteer for the Bookgroup for over eight years before becoming its paid Director for four years. After the first book got published (which I had co-authored and also created the illustrations for), I felt the need to write a teacher's manual for it, so that it could be promoted outside the school, for other students as well. Once we had the first few books, I not only went around several schools in Karachi but also across the country to hold workshops for heads and teachers, and thus created a place and a market for the books. I resigned in the year 2000, and have had no association with it for the past two decades.
[easy-image-collage id=2349]
3. You have been associated with the Children's Literature Festival (CLF) in numerous decision-making capacities. What role has CLF played in promoting literature among the youth, especially children? 
My experience with the Children's Literature Festival (CLF) has been undeniably fantastic and rewarding. I was invited by its founder, Dr. Baela Raza Jamil to join the CLF Board, and also be one of its many Resource Persons, when the first CLF was being planned to be held in Lahore in 2011. Ameena Saiyid, its co-founder, had already founded the Karachi Literature Festival (KLF), and so with all these committed and high-achieving members on the board, it has been a wonderful journey of self-discovery for all of us. CLF has collaborated with numerous private and public organizations, foundations, and development partners. It won't be wrong to claim that CLF is the first national-level, largest learning festival with outreach across Pakistan. From Mithi to Swat and from Turbat to Multan, so far over seventy CLFs have been held in big cities and small towns of the country.
We have a most unfortunate situation that 22.8 million children (ages 5 -16) are out of school! Then there are equally depressing statistics collected by the Annual Status of Education Report – ASER – about learning outcomes of primary level children in Pakistan in the public sector schools. For example, 44% of class 5 children could not read a class 2 level story, and so on. It is a pathetic situation, and no heads are rolling.
CLF provides an opportunity to children of all ages and from all backgrounds, to take away something or the other from the two full-day events. Its main mandate is to expand the culture of reading for creativity, imagination, and multi-sensory stimulation. It is a learning experience beyond textbooks and tests: fun-filled and enjoyable, which empowers children. We now have the support of over 200 eminent authors, poets, trainers, academicians, artists, musicians, actors as Resource Persons who give their time free of cost.
Through CLF's outreach programme, two rickshaws have been converted into "Kitab Gari" in which a children's library with 800 books has been set up. There's also audio-visual equipment that enables films and documentaries to be shown. The mobile library has been going around in Lahore's inner city where children learn under tough conditions. Stories are sometimes read by celebrities and art and craft activities are also held. The second Kitab Gari is all set to function in Karachi after this pandemic is over. However, during these trying times, CLF has held several storytelling sessions through its Online Book Club, Art & Craft Therapy, Theatre & Puppetry, and has collaborated with the PTV for its Teleschool. One of my recent bilingual books, 'The Winged One / Paraunwala' was also a part of that.
[easy-image-collage id=2350]
4. You have recently published 'Etienne and the Angry Dot', which is your first Kindle book on Amazon. Tell us briefly about it? 
Let me copy here what I have written about 'Etienne and the Angry Dot' for Amazon:
Observing the Coronavirus-related anxiety and frustrations of my pre-teen grand-daughters first hand (currently I am in the US with them), and those of my three-year-old grandson (Etienne) remotely, I decided to create this book. It's a rhyming story with a dash of humor that empowers young children, makes them understand what this 'Angry Dot' virus is set out to do and how, by taking necessary precautions, we can help everyone around, as also the ailing earth.
I have written and illustrated over sixty books for children of various ages. This is my first Kindle book.
After the book was launched on May 27, 2020, SAMAA TV Digital contacted me about it, so if anyone is interested to read more, here is the link:
https://www.samaa.tv/culture/2020/05/have-you-read-etienne-and-the-angry-dot-yet/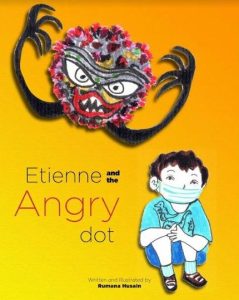 5. What writers, authors, or literary works inspire you to continue developing content for children? 
Now that calls for a lengthy answer as there are so many who I grew up reading and admire to this day. When I turned seven years old, my father took me to the British Council Library, which was located in the Sarnagati Building on Pakistan Chowk in those days. I became a member of the library, and even though my school had a decent library, a whole new world of books opened up for me.
Some of my favorite writers and books from my childhood days are the 'Billy Bunter' stories that my aunt used to narrate to me when I was about four years old. She recently found in her house an old, tattered copy of one of the books as I had never forgotten 'Billy Bunter'. My father had the entire collection of the 'Just William' series by Richmal Crompton and I used to read each book several times. 'Great Expectations' by Charles Dickens was my school textbook, so I read all of his other books on my own when I was in school. I had received the Swiss author Johanna Spyri's famous book 'Heidi' as a prize in school and read and reread it countless times too. I relished all of the Enid Blyton series: 'Famous Five', Secret Seven', Malory Towers'. I also love Daniel Defoe and Mark Twain's books, and I still marvel at Lewis Carroll's imagination as is so evident in 'Alice's Adventures in Wonderland'.
The American writer and illustrator Theodor Seuss Geisel of the incredible Dr. Seuss books are such a huge favorite, as I love humor. I once read somewhere that his first children's book was rejected by nearly 30 publishers who didn't have a place for his nonsensical rhyming book with unusual creatures. Another absolute favorite children's author is the British Roald Dahl. 'Charlie and the Chocolate Factory', 'Matilda', 'The Twits'…and so many others. I love his made-up words, and I have ended up marrying a man who also has a penchant for making up nonsense words.
Much to the chagrin of my mother, my father used to subscribe for me all the children's magazines published in those years when I was growing up. So besides reading English books, I used to devour 'Naunehaal', 'Bachhaun ki Dunya'. 'Khilona' and 'Taleem-o-Tarbiyat', and probably read Nazir Akbarabadi and Ibn e Insha's works in those, as well as Dr. Mohammad Iqbal and Sufi Tabassum children's poetry. Their contribution is immense. However, I am a bigger fan of music composer Sohail Rana, who gave us hundreds of wonderful songs for children. For 20 years, through his television programmes Kaliyon ki Mala, Saat Suron ki Duniya, Sang Sang Chaltay Rehna, Hum hee Hum, etc. he created unforgettable lyrics and melodies.
[easy-image-collage id=2351]
6. You have taught at various schools across Pakistan. What changes do you think our education system must adapt to effective teaching? 
Well, I haven't taught at schools across Pakistan. My teaching experience is limited to Karachi, but I have had innumerable interactions with students and teachers in different cities and can say that with a few exceptions, the state of education is pretty dismal across the country.
Regarding the "changes", I have always advocated for radical changes in our education system, making it more relevant and child-centered. Let me quote a short piece from a recent column by Zubeida Mustafa, published in Dawn on June 5, 2020, as she has said it so concisely:
"We should, for starters, not be afraid of confessing honestly that our proclaimed educational goals, namely to instill religious values, patriotism and reverence for ideology, have remained beyond our reach even after 72 years of narrow goals. In the process, much damage has been done. The more the authorities have persisted in emphasizing religion in education, the more society has moved away from morality, ethics and integrity. The greater the effort to Islamicise and ideologize the curricula, the more have selfishness, corruption, and untruth been enhanced in all spheres of our national life. This sorry state of affairs testifies to our pedagogical failure to reform society through religion in education.
In the process, we have also failed to produce students who can think critically and possess the problem-solving capability."
[easy-image-collage id=2352]
7. Share with us some interesting details about your book, 'Karachiwala: a Subcontinent within a City'.
I was never convinced, nor comfortable with the overly simplified version of the four ethnicities from the four provinces of the country, that was presented to me since my school days. I could sense, even then, that this was not the whole truth. It was done out of political expediency. The book is therefore a study of, and a tribute to the diverse mix of people who live in Karachi. I have always been curious about different people: who they are, where they come from, the languages they speak, the clothes they wear, the food they eat, what their beliefs are, the varied customs and traditions they observe, and what they do for a living. 'Karachiwala…' resulted in an answer to this quest.
I went to over 60 people's homes across the city, across social levels, spoke to them, photographed them, attended their festivals or other rituals, and documented their stories in the book. After this book, I ventured to write 'Street Smart: Professionals on the Street', which also documents over 60 individuals who work on Karachi's streets.
8. In what ways do you think we can help children nurture and enhance creativity?
It is extremely important to first believe in them; provide creative stimulations by exposing them to fun-filled stories, poetry, art, music, dance, theatre, instead of shoving down their throats lessons of morality all the time. Give them breathing space and their creativity will thrive.
[easy-image-collage id=2353]
9. You have been developing videos for children that you share on YouTube and Facebook. How much research and planning is required to make such informative videos?
Yes, I have. This is my Facebook page,
@rumanabooks https://www.facebook.com/rumanabooks/
I share the videos on Instagram too: https://www.instagram.com/husain.rumana/
And have been uploading them on YouTube but haven't been able to customize the channel as yet:
https://www.youtube.com/feed/my_videos?disable_polymer=true
I have been uploading these short videos daily for children since the third week of March 2020, when we went into lockdown due to the pandemic. My husband and I arrived in the US to be with our son and his family, and I wasn't carrying my children's books. Luckily, our two granddaughters have thousands of books in the house, so I am making use of those. They also have some of the Urdu books that I had previously given them.
Sometimes I plan a day in advance and at other times I decide a few minutes before I am ready to make the video. It is a labor of love, and I enjoy doing it. Again, a small contribution from my side for all the children who are at home in Pakistan and elsewhere. Most of my videos (over 70 so far) are in Urdu, but there are some in English as well.
I am very happy that some schools as well as other platforms are also sharing them, including the CLF. I keep getting messages in my inbox from parents or teachers and am always pleased to respond to them and their requests.
10. Your message for the youth of Pakistan? 
None of us are a know-it-all. Become life-long learners. Enjoy all the beautiful things around and refrain from putting people down. Don't be judgmental, don't discriminate. Work for peace and harmony, and stay away from envy, unnecessary conflict, and hate. Always try to build bridges. Use social media by all means but spend more time reading books, in positive and constructive activities, and in helping others in one way or the other.
---
KARVAN envision to showcase the best and the brightest talent from Pakistan. If you have achieved an academic, personal or professional milestone, or know someone who did, do send us a brief profile at talktokarvan@gmail.com.
Find us on Facebook: @talktokarvan
---