Umar Narejo has a keen sense of what is happening in Pakistan and across the world. He is the author of "Know it, Understand it then Change it", a book about current affairs. 
1. How challenging was it to publish a book at such a young age?
It was challenging for me to write a book at such a young age. At a time when children are addicted to social media, I wanted to do something in life. It was not easy to write a book while focusing on my studies and examinations. I used to wake up early to cover my syllabus and also to concentrate on my writing.
2. Who supported you the most in becoming an author?
I was blessed with the support of my parents and my teacher who helped me throughout this process.
3. What is your book about?
The book is about the most challenging issues of the world and the inevitable issues of Pakistan. I have written solutions to the problems faced by Pakistan and the world.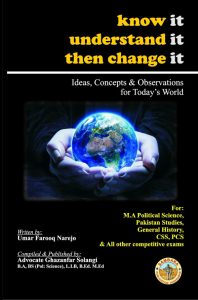 4. Share a few excerpts from your book
"Attacks will create attacks
Revenge will create revenge
War will be a door towards both"
"Men like Nelson Mandela are born due to an act of inhumanity but Men like Hitler are born due to an act of War"
5. Where is your book available and how can one buy it?
My book is available at Amazon.co.uk and in book stores of Larkana.
6. What are your plans in life?
I want to serve my country with dedication. I aspire to join the Pakistan Army.
7. How much reading and research did you need to write your book?
I have a habit of reading books, newspapers and magazines. After gaining knowledge about social, political and world issues I felt I needed to write a book to share my views with the world.
8. Your message for the youth of Pakistan?
Do not waste your time and abilities on social media stuff. Spend time to search for your ability. We all are born with a purpose.
---
KARVAN envision to showcase the best and the brightest talent from Pakistan. If you have achieved an academic, personal or professional milestone, or know someone who did, do send us a brief profile at talktokarvan@gmail.com.
Find us on Facebook: @talktokarvan
---