Dr. Faraz Talat, Co-founder and CEO, Cafe Sol & iO – The Space, talks to Karvan revealing the idea behind this amazing initiative he and Awwad Shahid, partner and co-owner, along with their team have taken to bring together the community over a cup of coffee!
[easy-image-collage id=2011]
1. There is something upbeat and modern about your website. How did you break the status quo to follow your trend?
For us, good tea houses are social nerve-centers. That's how they've been for centuries. Any coffee or tea house that's only interested in selling coffee and tea isn't performing its function well. Our website is designed to represent the social dynamics of the community we love. More than marketing our products, it's about helping our neighbor find his lost cat. Or helping a rising local artist sell her paintings. The website is also a great way for me, as a writer, to put my thoughts and opinions out there. I've been a blogger long before I got into this chai-coffee business, so it's entirely within my comfort zone.
2. Who are your team members and what do they do?
Awwad Shahid is my partner and co-owner at Cafe Sol. He's an excellent graphic designer, and his marketing skills are indispensable to our team. He's a fun, goofy guy, who's very good at hosting clients. Shahbaz, an old friend who worked briefly as a barista in Sydney, helped us a lot in setting up the place. Tahir Ali is a local legend in the world of coffee. He has worked in this field for a long time, and we're very happy to have him working with us at Cafe Sol. Hira, our morning barista, is also a very diligent and experienced server. Our newest member is Talha Waqar – a local musician who you should get a selfie with because he's going to globe-trotting rock-star by 2030. When he's not working, he unwinds by playing his guitar or ukelele in the cafe.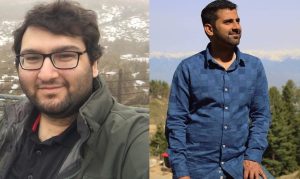 3. Tell us about the concept of Café Sol and iO-Space?
About a year ago, I was working as a doctor in a sleepy little town of Torquay in Devon, England. For months, I had no friends, and nobody to talk to after office hours. That was until I discovered a small tavern which hosted weekly board gaming nights. It's very easy to insert yourself into a group of gamers. If a board game needs four players and there are only three, they'll practically beg you to join them the moment you walk into the room. This tavern became my gateway into Torquay's social circle, and I was extremely grateful for it. On returning to Pakistan, I was eager to bring the same magic to a coffee shop. I want it to be a community space before anything else. We stuffed our cafe with board games, curiosities, ice-breakers, and conversation pieces; practically anything that could encourage healthy social interaction. iO – The Space is a vital part of our adventure because it allows us to host events without having to close down our regular cafe operations. Awwad had similar ambitions as mine after having endured a string of hectic corporate jobs. And I'm grateful to him for being mad enough to embark on this journey with me.
[easy-image-collage id=2015]
4. What kind of response did you initially receive when you opened Café Sol?
The initial response was expectedly lukewarm. We were aware that we would not just be building a cafe, but a new cultural base on which the cafe would thrive. Most people in Bahria and DHA, by no fault of their own, are not accustomed to outdoor group activities that don't just involve sitting at a large table and having food. Cafe Sol was offering something that many people, I think, didn't realize they needed. In a few months, however, the cafe took off. We doubled our area by developing our event space, iO. We expanded our menu and added more members to our team. We're quite proud of the way it's progressed since its initial stage.
5. What kind of events do you organize?
We organize open mics, comedy shows, musical gigs, and storytelling sessions. We collaborate with some incredibly talented members of our local community to organize creative writing classes, dance classes, free talks on mental health (special thanks to Soch Psychological Clinics for their support!), and other meaningful social-political dialogues. Our space is also available for private events.
6. What is the process of booking your space for events?
For booking, just give us a call! Awwad and I would be happy to speak to your requirements. iO is a very adaptable space and can be modified for just about anything from birthday parties to work meetings.
7. Tell us about the food that you offer and what is the best cuisine to have at Cafe Sol?
We're very proud of the single-origin coffee we serve. Our most beloved product, however, is white chocolate chai – which is essentially a very flavorful masala chai with its heat balanced out by rich white chocolate. We also have a great range of food and desserts, nearly all of which are homecooked by our friends and neighbors. And if you find Awwad present personally at the counter, ask him to make you a Green Apple Chiller. You won't regret it.
8. What is the best thing about Islamabad that visitors must experience?
Islamabad is a strangely deceptive city. It feigns a calm and composed atmosphere. If you know where to look, however, there are social hotspots that burn out the retinas of the bigger party-animals from Lahore and Karachi. If you're visiting Islamabad, befriend a local who knows its social scene inside-out. There's always something happening at Kohsar, or Lok Virsa, or a local farmhouse; or towards the Bahria side, at The Riviera and Civic Center.
9. You are a doctor and a writer and a cafe owner. How do you manage all these things?
I've placed my medical practice on pause for now. Although I'm a licensed doctor, I feel that this is not a service I can adequately provide on a part-time basis; especially when my community space is in its infancy, and demands a lot of my attention. However, my medical experience is hardly going to waste. It's being channeled into the community space, where I hold frequent events in the service of public health, physical and psychological. And it's always useful to have a doctor with a psychiatric background when we're, say, hosting a depression and anxiety support group here. I still find plenty of time to write though. Writing takes a lot of chai or coffee. I think I've got that covered now.
10. Your message for the youth of Pakistan?
Do not allow yourself to be fooled into solitary suffering. We are 197 million people suffering alone in 197 million rooms, not realizing that we can come together and build loving communities to share our burdens with. Talk to your neighbors. Attend local public events. Socialize. Organize. Become politically aware of your surroundings Whatever you're going through, you don't have to go through it alone.
---
KARVAN envision to showcase the best and the brightest talent from Pakistan. If you have achieved an academic, personal or a professional milestone, or know someone who did, do send us a brief profile at talktokarvan@gmail.com.
Find us on Facebook @talktokarvan
---