Maham Syedain clinched the Silver Prize while Arooha Arif secured the Bronze Prize at the short story writing competition conducted by US Magazine of The News. KARVAN talks to these two amazing writers in this exclusive interview!
"Writing is not just something I am fond of, but something that I believe resides within me as an instinct", says Maham Syedain
"I do not find the inner peace to write. I just write. Peace itself finds its way in my mind and heart", says Arooha Arif.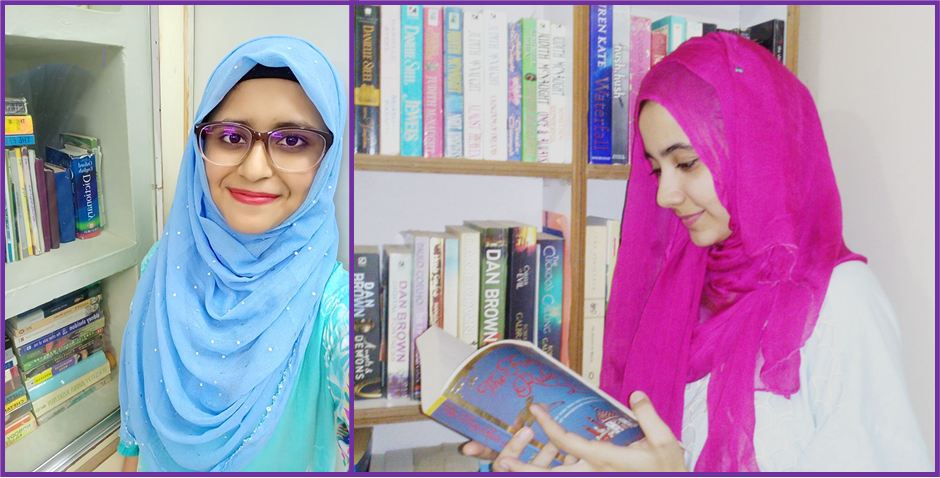 ---
1. Tell us about yourself?
Maham Syedain: This is Maham Syedain. I am a 23-year old student studying Clinical Psychology, from the University of Karachi. Besides studying Psychology, I am a passionate writer, poet and an avid reader, who has written and contributed an ample amount of literary pieces to different literary magazines/e-magazines. I am a regular reader and contributor to US Magazine (The News). I have been a part of 'The Scribbled Kite' too, a literary e-magazine, and as an Executive Editor for 'Team of Poets'. Apart from these, I am just an ordinary girl, who's trying to make a place amongst a queue of remarkable people in the world, starting off from my Homeland- Pakistan.
Arooha Arif: I am currently doing BS in English Literature. I am also working with Daastan, which is a delight! In my free time, I read books and write short stories. Also, I love to tell stories and read my favorite lines from the books to the people around me.
2. What were your feelings when you were one of the winners of the US Magazine short story writing competition?
Maham Syedain: First of all, I was still half asleep when my phone beeped with a notification from a friend, Muhammad Omar Iftikhar. I read the post while rubbing my eyes: 'Congratulations Miss Maham Syedain on securing second prize in US Magazine's short story competition.' And my first reaction was: "They must be kidding me." It took some time to register. I was not expecting a win at all. I have never been this good at writing stories since I am more inclined towards poetry, articles and flash fiction. So yes, this was a blast for me.
Arooha Arif: I was surprised because I thought the style of my story was a little too complicated to follow. However, hard work always pays off in the end. I am happy that I was one of the winners.
3. What was the name of your winning story and what was it about?
Maham Syedain: The name of my story was "Beautifully Scarred." It was about a girl suffering from a rare autoimmune skin disorder, Psoriasis, and her everyday struggle with the judgmental people around her. She was an intelligent, high-achiever student and perfect in every other way except that she had scars on her face that she had to live with. People would ask her weird questions and judge her appearance only because of the illness she was going through. But all the negative stereotypes were broken when a mature, literate and a sincere man came along and married her with all his heart only because, 'appearance does not matter but what resides within.' This was the theme that people judge others on the basis of physical appearance and truly neglect the flawlessness of their souls.
Arooha Arif: It was "At War With Illusions." The story was about a young mentally unstable married woman and was unable to differentiate between her dreams, illusions, and reality. I wrote that story in the present tense to intensify the psychological drama. It was supposed to indulge readers, build empathy with the main characters, and then leave the readers confused akin to the mental construct of the main character.
4. Good writers are avid readers. Which authors are your favorite?
Maham Syedain: I do not stick to a particular writer and enjoy reading any good writer given that the story is meaningful, enjoyable and moralistic. But yes, to quote some, I would like to name Paulo Coelho, he is one of the most influential and spiritual writers who do influence a lot of minds and hearts by his soulful writing. 'The Alchemist', being one of them. Elif Shefak is yet another one on the list. Her book, 'Forty rules of love' was quite captivating. It was spiritual and touched my heart since I have this admiration for Sufism that runs in my family. Not just that, my brother and I are huge fans of folk songs. I have a bookshelf always stacked with books no matter how many of them are still unread. I have a habit of hoarding books!
Arooha Arif: At present, Charles Bukowski and Arundhati Roy are my top favorite authors. Let us see who beats them off. I also loved Khaled Hosseini and Elif Shafak's books. And how can I forget to mention Charles Dickens? Wait, Sylvia Plath is amazing too and so is Khalil Gibran! This list can never end. There are so many remarkable writers.
5. Which novels did you enjoy reading the most?
Maham Syedain: Since I do stick to a particular genre and that is; Fantasy, Romance, Adventure; I am the kind of person who is not into mystery or crime. It seems dry to me. I adored the Judith Mcnaught series of books that were mostly set out in the traditional Duke, Duchess, Kings and Queens theme. They were all love stories but what I admired about them the most was, every story was different and written so beautifully that it hooked me to the end. I just do not want to read anything that has violence, bloodshed or even a painful death. In a nutshell, I want to read happy endings!
Arooha Arif: "The God of Small Things" by Arundhati Roy is so far the best recent novel I have read. "Factotum", "David Copperfield", "A Thousand Splendid Suns", "The Bastard of Istanbul" are a few others I have read recently.
6. What motivates you to write?
Maham Syedain: I have been writing since I was studying in grade 2. I had a habit of writing diaries and I have around 10 of them until I stopped writing in them. It is in the veins I guess – the love for spilling the secrets on the blank pages. I want to preserve each thought, feeling, and experience. I feel motivated to keep writing also because it acts as a therapy; as an outlet, to be precise. Whenever I am not feeling myself, I blurt it out in the form of words. When I am ecstatic, I do the same. It is all about passion. One day I want to become an author of at least a couple of books and become recognized globally, Insha Allah
Arooha Arif: Reading motivates me. The more I read the more I want to write. In addition, the pleasure, which I get after finishing a certain story, is indescribable and so I write for the sake of that pleasure.
7. Writing is a combination of patience and creativity. How do you find the inner peace to write?
Maham Syedain: It is not something I plan on doing. It just blooms. I mostly write in the middle of the night when imagination is kind of at its peak. Also, the surrounding is peaceful. I cannot write in the middle of a family gathering or people ranting around. Then, I also write when I am at a place that seems serene and calm, I just jot down whatever and whenever something strikes. Usually, with a cup of tea, I sit back on my swing chair with a book in one hand or my cell phone – where I scribble my heart out.
Arooha Arif: I do not find the inner peace to write. I just write. Peace itself finds its way into my mind and heart. However, it is not easy. Writing sure takes a lot of patience and creativity. It is very tedious work but in the end, it is worth it.
8. Have you ever faced writer's block? How did you overcome it?
Maham Syedain: A lot. Take the example of a short story. I have faced rejections too, twice or thrice, only because I could not come up with a story that had a flow. Sometimes I get stuck in the middle of a scene. For that, I start reading. When I read more and more, I can actually feel the words oozing out of my pen.
Arooha Arif: Writing comes when it wants to come. I cannot force it. Therefore, I do not think there is anything like a writer's block. It is just me forcing myself to write when it is not the time. Not yet.
. Share your experience of working with Daastan?



Maham Syedain: I am currently a part of their fellowship program as an editor in English publishing department. It is fun working with Daastan and getting to know such erudite fellow writers. It is a phenomenal platform for making literature flourish and helps emerging literary activists find a voice of their own.
Arooha Arif: I am enrolled in a fellowship program which was offered by Daastan around October. It was a dream come true. Daastan is my home, my love. Working for it has been crazy. It has helped me connect with so many passionate people and given me an insight on how a publishing house works.
10. What message will you give to aspiring writers?
Maham Syedain: Keep on writing no matter what. If you want to write what you feel but lack the right words or if you think you cannot write well: still keep writing. Trust me, nobody is born with a pen and a vocabulary. We all make mistakes, the slogan is: learn from those mistakes and never stop. Writing is not just something I am fond of, but something that I believe resides within me as an instinct. We are not writers by birth. It is a blend of experience, exploring and reading. Read a lot. Like A LOT! One day, you will become one of the best.
Arooha Arif: Do not stop writing. You might not get published. You might not get any recognition but that does not make you any less of a writer. Remember that your words are important and eventually they are going to heal someone. Feel responsible for it. Do not stop writing!
 US Magazine declared the results in their edition published on Friday, December 08, 2017. 
---
KARVAN envision to showcase the best and the brightest talent from Pakistan. If you have achieved an academic, personal or a professional milestone, or know someone who did, do send us a brief profile at talktokarvan@gmail.com.
Find us on Facebook @talktokarvan
---