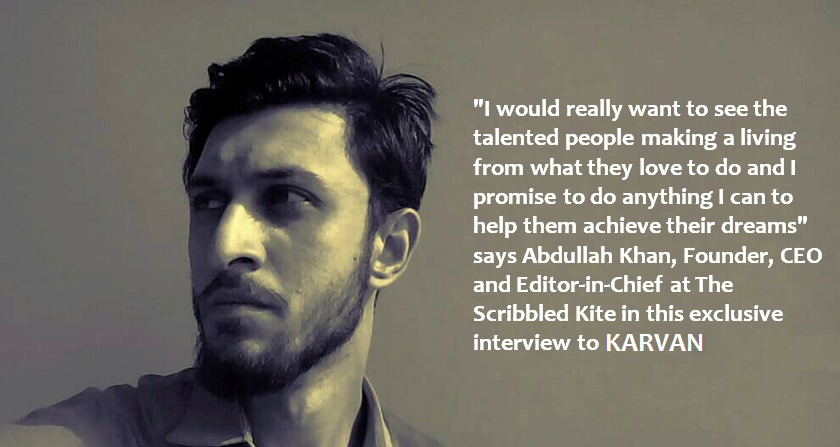 Abdullah Khan's official Facebook Page: Abad
1. Tell us about yourself?
I am a small town person. I grew up in Peshawar and shifted to Islamabad when I was 17. The weather and beauty of this place do feel like home, however, I often miss Peshawar and the Army Public School (APS). Yes, I am an APS alumnus and feel extremely connected to this institute given it hosted me since childhood to my first year of high school.
I have been an Amateur footballer at Pukhtunkhwa Football Academy, won awards and moved on to work on my other skills, which include painting, writing, singing, and entrepreneurship. Being a typical introvert, I was extremely awkward at public gatherings and sometimes missed several family weddings; those times made me discover the passion for poetry. I was fortunate to have my short story become one of the top 15 entrants at Daastan's short story contest, "Stories Untold Season 3" in 2017. It built a lot of confidence to manage my entrepreneurial venture, TheScribbledKite more effectively, which was already booming in the market since November 2016.
2. How did you come with the concept of "The Scribbled Kite" (TSK)?
I have been into writing since grade six. My paternal grandfather was published twice so I guess that is where the genes kicked in. I had this passion for writing colorful sentences since an early age and started writing stories, alongside managing my blog.
I applied to become a blogger at Mangobaaz but could not get through. That is when I knew what I had to do. I started developing my own website with the aim of featuring literary works and blogs from writers across Pakistan. TheScribbledKite's soft launch took place in January 2017, which published blogs, poems, shorts stories, essays, book reviews, and excerpts.
3. What were the initial challenges you faced when establishing TSK?
I will be honest. I have faced many financial instabilities in my life before establishing TSK. I began this venture with just Rs.10 (GPRS internet). I had later upgraded to 3G. Once I had a team supporting this dream and the website was operational, people began loving what we were doing. However, the only challenge for me was to recharge my internet service by the end of the month. LOL.
4. Share with us about your other literary activities: "The Timeworn Silence" and "Abad"?
Besides The Timeworn Silence, I have been mentoring aspiring writers and bloggers through my own platform. Millions of people around the world read these bloggers' work and I am happy that they are being monetized through my platform. Furthermore, we are just about to launch our Literary Digital Magazine named Scribary. It will also do wonders in the world of literature.
5. What activities does TSK perform?
TSK started as a literary e-magazine and later grew to become a digital network with more than five websites, an under-developing digital magazine and a service provision subsidiary called OverHaul. Therefore, our activities are, empowering and monetizing the talented lads out there. Hence our tagline: Reviving the Aptitude.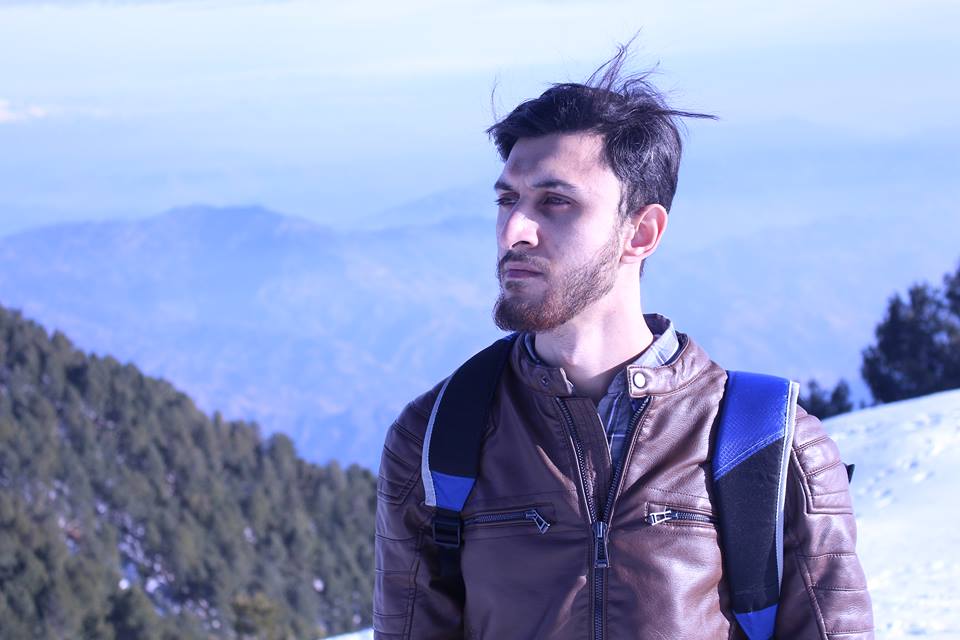 6. Who are the key and core members of TSK?
I would rather not categorize my team, given they all have worked hard to grow this platform. Moreover, the best team we have is our own audience who trust our content and give us a chance to feed them with valuable information about various aspects of life.
7. Where do you see yourself ten years down the road?
I would really want to see the talented people making a living from what they love to do and I promise to do anything I can to help them achieve their dreams. Insha Allah!
8. What motivates you to write?
My life has been a rollercoaster ride. It has taught me valuable lessons too. Even though I try hard to neutralize my work, still I tell my readers about the lessons I have learned through my writings.
9. Are you more into writing poetry or prose?
Honestly, the prose is a very frequent niche for me and I can write it whenever I wish to. However, poetry pops up in my mind out of nowhere.
10. Your message to the young writers of Pakistan?
I would rather not be a mainstream motivator and tell you to not give up. I would just tell you to not look down on those writers who are aspiring to become great. You never know which one of them looks up at you as a mentor. Spreading your colors will turn you into an inspirational mentor and a lovable author.
---
KARVAN envision to showcase the best and the brightest talent from Pakistan. If you have achieved an academic, personal or a professional milestone, or know someone who did, do send us a brief profile at talktokarvan@gmail.com.
Find us on Facebook @talktokarvan
---