Mohammad Atif Siddique, director of a theatrical play, 'Aapka Matlooba Number', is an actor and graphic designer while Hassan Jawad Rana is a comedian and journalist. Atif and Hassan have co-written this play. They reveal their love for acting and scriptwriting in this exclusive interview.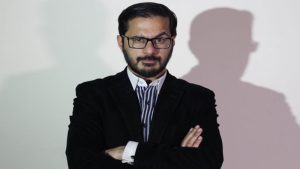 We asked our guests to tell us something interesting about themselves. Hassan Jawad Rana said, "I am a student of life and fascinated with human behavior. Living in many countries has given me a wider perspective on understanding people. This helped me become a writer, actor, comedian, journalist, businessman, trainer and an assistant professor in the media department at Iqra University, Islamabad. I consider myself a communication specialist." Answering the same question, Mohammad Atif Siddique said, "I am blessed with diversity. I am an entrepreneur, a graphic designer, a programmer, an actor, a writer, a director, a lyricist, a teacher, and a student of Sufism. It is not easy, but I manage all these professions together."
The versatile actors also talked about their inspirations and how they decided to become actors. Hassan said that he has always been a performer. Starting from partaking in plays at school, a debater in high school or a drummer for his band, he felt a rush when surrounded by people. He said, "I started doing standup comedy and improvised theatre. The appreciation I received compelled me to keep following my heart." Atif talked about his first performance in 'Oscar' in 2004. He said, "The moment I walked on stage, delivered my line and when people laughed, that was the moment I was hooked on becoming an actor." Atif also commented on the turn that his life took when he got into theatre. He said, "Well, I got into electronics and programming when I was in seventh grade. Performing arts never crossed my mind as I come from a conservative family. During my 20s however, I explored acting and life changed for the better."
Hassan said that the key to handle diversity is empathy and communication. For him, it is really important to be able to project oneself into the minds of viewers, listeners, readers, subjects or the characters. He said that this helps one understand people and their interactions. Talking about his initiative 'The Party Quirks', Hassan said: "I remember when there was no concept of modern standup comedy in Pakistan. One day, I saw a wanted poster for a standup comedian. Later, I met Danish Ali and Natasha Ejaz and we started an improvised comedy troupe with the addition of Usman Khalid Butt. The Party Quirks has performed over 100 shows across Pakistan since then. I am working with Ovais Mushtaq, co-producer of our current play, and continuing to perform in such shows."
Being asked regarding the experience of writing and acting in the play 'On Common ground' in Poland, Atif said that the experience, as well as the team, was amazing. He answered: "The team of 'Theatre Wallay' is incredible. The project itself was kind of a cultural exchange. We worked with the artistic elite of theatre in the US and the learning was profound. More than 3,500 people saw the play and they all appreciated it."
We asked the two creative writers to shed some light on their creative process. Hassan defined theatre as an amalgamation of art and science. He complimented Atif for his direction and said, "The science part is made of structure, rules, and guidelines. The art part is the energy and spirit the character brings to the script. Understanding this concept makes Atif Siddique an excellent director. Atif and I have a beautifully complementing relationship in storytelling for we combine art and science." Atif also praised Hassan as a writer and co-worker. He said: "My friend Hassan Jawad, also a writer, and I, have developed a writing method, where we separate the left brain from the right. We do all the logical and structural part first, followed by going into each character. Then we let the script flow from our hearts."
The pleasant conversation ended with both the writers giving the message of change and self-identification. Hassan emphasized reading and said, "Read everything. Read short stories, long novels, newspapers, comics, poetry, research, everything. It will expand your mind and improve your communication skills. Understand yourself and work on your character. You will notice you will complain less. Finally, respect people's personal space and learn to agree to disagree." Atif concluded by saying, "Rebel! Our culture is as messed up as our politics. We use religion to guilt-trip each other. And there are so many double standards. Make your own way. Do what you want and learn to own the consequences you face."
This interview taken by Muhammad Omar Iftikhar was published in Daily Times on Saturday, April 14, 2018.
---
KARVAN envision to showcase the best and the brightest talent from Pakistan. If you have achieved an academic, personal or a professional milestone, or know someone who did, do send us a brief profile at talktokarvan@gmail.com.
Find us on Facebook @talktokarvan
---