Sidra Amin, Co-founder, Peshawar Book Club and Overseer, Young Women Writers' Forum (YWWF) – Pakistan, talks about her career, passion and various literary activities she happily indulges into in this exclusive interview with KARVAN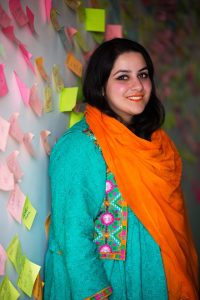 1. Tell us about yourself?
It is very hard to talk about yourself when it is not being done in metaphors and there's a word limit. I am just a 22-year-old, trying to impact everyone's perception of planet earth and earthlings by focusing on empathy and kindness. I talk a lot, and I am very loud when I know I am making sense. I usually smile a lot, and it is not on purpose.
Currently, I am leading Young Women Writers' Forum, Pakistan which is working to empower women writers in Pakistan. I am also a co-founder at Daastan, an award-winning literary platform working towards promoting and publishing literature. I co-founded Peshawar Bookclub and Words & Metaphors, KP's first spoken word platform. This seems like a lot of responsibility, however, when you love what you're doing, you never really get tired. I write and read most of the time. It is what keeps me happy. As a person, I am always cheerful, and always laughing. God is kind to me. Also, I am a healthy food enthusiast but I end up eating cakes and chocolates whenever I am sad.
2. How did the Peshawar Book Club come into existence?
We arranged a Bookay meet up in 2016, and a mutual friend told me he would like to do this more often. One month into it, and I found myself and Sameed, someone I was meeting for the first time, sitting among a book readers talking about "Forty Rules of Love". This is how the book club came into existence. We did not have a plan, just an agenda of adding value to our meetups. Today, we have come a long way, my co-founders Sameed and Zarak have been the constant force behind the growth of this Book Club. We have arranged 22 book meetups since April 2016. We are just a bunch of people trying to bring some sane thoughts on the table over a cup of tea while the entire world is in chaos.
3. As Co-Founder of the Peshawar Book Club, what are your responsibilities?
My only responsibility is to talk and talk and talk. And trust me, the members hate me for this! I am usually moderating, and trying to get as many book readers on board. Peshawar Book Club is the chilliest place, my safe home, my escape from the everyday mundane routine.
4. You are also Co-Founder and Editor-in-Chief at Daastan? Share your experience of working with this publishing platform?
I am no more the Editor-in-Chief at Daastan. Someone who is way better than me, my mentee Mahnoor Naseer, is now the Editor-in-Chief. I am Director Events now, focusing on managing activities on the ground. I joined Daastan when I was kick-starting my work with non-profit companies. And this was a step-up for me in every capacity, both personal and professional. I was 20, young, and just unaware of what was out there in the big bad world. Daastan was where I encountered things. Ommer, the founder grilled me by making me do things I did not have any experience of completing. He exposed me to work that has helped me learn more about myself. He put his vision and my ideas together to create Qissa– Pakistan's first online self-publishing platform. My journey with Daastan has been nothing less than an adventure, nights of insomnia, and a lot of happy moments. Daastan gives me a reason to be happy every day.
5. Share your experience of working with Young Women Writers' Forum (YWWF)- Pakistan?
Let's accept it, in this society, a woman expressing her thoughts sounds like an oxymoron. When I joined Young Women Writers' Forum (YWWF) back in 2014, it was just Young Women Writers' Forum, Peshawar, a sister concern of Pak Women Writers' forum. The aim of the forum was to empower women writers to voice their thoughts. A few months into joining the forum, I was selected as Press Secretary. We worked really hard, and in 2016, I was selected as Overseer to lead Peshawar, Islamabad, Karachi, and Lahore chapters. That was a huge step for me. I was very young, and the presidents of all these chapters were way more experienced than me. YWWF, Pakistan is real work. We are a non-profit, so the work here is really hard. Our team comprises four cabinets, each consisting of different volunteers working day and night to make a positive difference in Pakistan. In my tenure in YWWF, we have arranged over 50 events on the ground all across Pakistan, including nationwide story writing competitions, international mentorship programs, and national and international mushairas. We have a huge network of women writers. And the forum is nothing less than a blessing for me because I can start all my initiatives here as all the four cabinets are extremely strong, and the writers in each cabinet are very passionate.
6. You were awarded the "Innovative Initiative" award at the Innovative Youth Awards 2017. Tell us about this achievement and for what project were you given this accolade for?
"Innovative Initiative" award was a surprise. I did not know I was nominated by my co-founder and my mentor Syed Ommer Amer. God is kind and always blesses us with the best. We need to keep moving forward.
7. Your future plans?
I do not plan my future. I have never done that. I just make impulsive decisions based on facts and figures and usually they fall into place. I do not say it is a good approach, but this is just how I am. I do not have any future plans for now. I am just going with the flow.
8. You earned a degree in Mechatronics, Robotics, and Automation Engineering from the University of Engineering And Technology, Peshawar but your heart is in writing and reading. How do you manage to work in these two distinct fields?
I did NOT want this question here! I think when you know where your heart is, it is easy to work. Earning a degree in Mechatronics was a passion, and Alhamdulillah, I have been able to put that dream into reality. Writing and reading cannot parallel it as they are a part of me. There is no competition between the two even though at every stage of my life, I have been made to feel there is. Both are equally important. I love automation. I love working in the field. And if God wills, someday I might pursue a career there.
9. As Editor-in-Chief of Daastan, what do you think are your top 5 picks of short stories submitted by writers to the three editions of "Stories Untold" competition?
I will be very honest, I only read the stories of season 3. And I absolutely loved every one of them. We had over 50 stories, I believe. And so many of them had potential. If I had to pick 5, I would go with these:
1. Memoir of a Lost Odyssey by Bhaskar Paul
2. True Justice by Naveed Shehryar
3. The Mirror Trials by Rachel Kallembach
4. Kingdom of Derya: Aitmaad and the Clan of Seven by Muhammad Omar Iftikhar
5. The Mulberry Murders by Abhirun Das
10. Your message ton aspiring writers?
Two things keep me going in life.
1. Write every day. No matter how bad you write, do not stop writing, and never let anyone stop you from doing so. Writing every day only improves your skills, even if you are just writing about your daily experiences in your diary.
2. God and the universe always reward you for your hard work. If not in the ways you want, then in ways you can never imagine. Keep working, keep taking baby steps, and see how good things will come your way.
---
KARVAN envision to showcase the best and the brightest talent from Pakistan. If you have achieved an academic, personal or a professional milestone, or know someone who did, do send us a brief profile at talktokarvan@gmail.com.
Find us on Facebook @talktokarvan
---