DANIA SHAH
AUTHOR OF "OF SHAME AND SECRETS"
https://www.meraqissa.com/book/427
EXCERPT FROM THE BOOK:
"With teens soon approaching, she had gone through the scene a gazillion times in her dreams. A handsome Disney Pukhtoon, taking her by the arms, looking straight into her eyes, the fixed gaze, deep blue eyes and of course the magic touch. The eternity of the first kiss for a blossoming flower, rich in emotions, was sacred. Not for long though…Depriving a character of purity at such a fragile age was brutal. It renamed love to lust, replaced honor with horror, brought shame and secrets. But this unfortunate character had to suffer since the story was true."
FAVORITE LINE FROM THE BOOK:  
"No religion, law, ethic or rule says that it is justified to hit others, much less beat them. Yet it is amazing how people judge you for being a victim"
1. When and how did you start writing?
I have been writing for as long as I can remember. One – the love for literature runs in the family, Two- As a kid, my curiosity led me places, and more often than not I would end up creating troubles. Being a hyperactive child, my emotions were always on the verge, it was writing where I found solace. I received immense appreciation when I read my pieces to family/teachers or friends and of course as an artist, this is the only reason that pushes us further.
2. Your favorite Pakistani and Western (non-Pakistani) author(s)?
Pakistani authors:  Manto, Faiz, Naseem Hijazi, Ibn-e-Insha
Non-Pakistani Author: Ghalib,  J.K Rowling, Elif Shafak, Paulo Coehlo, Jane Austen
3. Your favorite novel(s)? (Both from Pakistan and abroad)
There's too many, hard to pick a favorite: Man-o-Salwa by Umaira Ahmad, Godfather by Mario Puzo
4. Which author is your inspiration and why?
Author inspirations change from time to time. There was a time I bought the entire stock from Umaria Ahmad, after reading Peer-e-Kamil, then by Paulo Coehlo after reading The Alchemist, but if you look at each author and their stories, they are all inspirational in one way or other. Still, if I am to pick one, I will pick Manto for the fact that he always told the truth no matter how bitter.
5. The motto you live your life by? 
Success is not living a life of extravagance it is the ability to be able to help others. ( This is my own quote and this is my approach towards life)
6. Tell us about the book that made you become the finalist at Season 4 of "Stories Untold"?
Ever since I started this business and got kids I rarely get any time to write. After Zainab's incident, I couldn't sleep for nights and skimmed the internet for child abuse, domestic violence, and sexual abuse. There were heart-wrenching facts that urged me to address the issue publically or launch a digital campaign (since I work through these channels already), however, there were concerns about the niche being too bold and against all my will, I postponed the idea for a later time.  But when I saw Daastan's post about a story competition themed on Zainab, I immediately decided to take part.
I have suffered and I feel all of us have since as a society we are still struggling to break taboos and bring awareness.  I have always wanted to talk about sexual education, rights, and awareness and I thought this was a good time to do so. I thank Daastan for taking the initiative and helping people come forward with their stories. Initially, it was hard to put into words the atrocities that deprive young souls of their childhoods. I would come to a stop after writing a sentence or two, then go back and erase it. I would think of giving it up, but I did for the sake of a gazillion victims who would never be able to speak up much less identify they were being abused.
I never knew I would actually win the competition. I am glad that I took the decision to take part, and I am obliged to Ommer and his team for what bringing about the revolution in the literary industry of our country.
7. Your message to aspiring writers?
No matter how well you write, keep reading. Good writers read, Great writers read excessively. Keep sharing your work, don't be afraid of the feedback. Learn from your mistakes, and write from the core of your heart.
---
NIRMEEN MAROOF
AUTHOR OF "KAUSAR BIBI"
https://www.meraqissa.com/book/438
EXCERPT FROM THE BOOK:
"Thoughtlessly, she glided her finger over the sleeve of her left forearm. Kausar purposefully wore long sleeves, even in summer. If she didn't, then people would point and ask, always, always the same question. Where did you get those cuts, Kausar Bibi? They would say, their round, blank eyes gawking at her as if she were a circus attraction. And Kausar Bibi would smile, her practiced, perfect smile and tug her sleeves up to her wrist and chirp, oh, just an accident in the kitchen. You know how these things can be. An accident in the kitchen. She snorted. If only they knew the truth.
FAVORITE LINE FROM THE BOOK:
"It had been over fifty years, yet the memories still kept her cold at night. Cold and awake."
1. When and how did you start writing?
I believe I was around five when I started the act of writing. I would copy down all my storybooks into loose pages and then tie the whole thing up with some ribbon. Stories, on the other hand, I began to write when I was fourteen. The internet played a huge part in that. I used to read a lot of fanfiction back then. I was impressed with how young the writers were, and confident too, to be able to put their work out there for the world to see. I wanted to emulate that, and that's where it started.
2. Your favorite Pakistani and Western (non-Pakistani) author(s)?
My favorite non-Pakistani writers are Neil Gaiman, Truman Capote, Gillian Flynn, Jennifer Egan, Haruki Murakami, and Ian McEwan. As for Pakistani, I enjoy the works of Bapsi Sidhwa, Mohammed Hanif, and Saadat Hasan Manto. New blood, such as Sidra F. Sheikh and Shazaf Fatima Haider, is also growing on me.
3. Your favorite novel(s)? (Both from Pakistan and abroad)
Lolita by Vladimir Nabokov. Such a dark and beautiful book. And tragic too. It's the closest thing, I believe, a novel can be to music. The cherry on top is that it's written by an author whose first language isn't English, so that's very inspiring. Ice Candy Man/Cracking India by Bapsi Sidhwa is another favorite. There's something almost nostalgic about an old Lahore, and the image of a group of Muslims, Hindus, and Sikhs sitting in a park and grousing about their British overlords.
4. Which author is your inspiration and why?
Ian McEwan, because he switches it up every time. His ideas are very original. In his latest novel, the main character is an unborn fetus. An unborn fetus. Now, who could have thought that that could be a likely narrator? He's brilliant and makes me want to be brilliant too.
5. The motto you live your life by?
I have several mottos, but the ones I follow the most are,
"Why fit in when you were born to stand out?"
"True failure is when you stop trying."
6. Tell us about the book that made you become the finalist at Season 4 of "Stories Untold"?
Kausar Bibi is about an elderly woman who must come to terms with her childhood trauma. My main challenge was the time limit. I had only found out about the competition a week before the closing date. There were only a handful of days to research and write down a 6000-word story and polish it up. I remember sending the final manuscript exactly fifteen minutes before the deadline and being so tired that I couldn't even bring myself to format the whole document properly. I was just relieved and proud of myself for even completing such a feat!
7. Your message to aspiring writers?
Write, write and write. Then write some more. Repeat step 1. Find a support group. This is far more important than writers realize. It's of the essence that you have someone read and review your work. That is how you can grow, after all. It can be a close friend, a teacher or even an online forum. NaNoWriMo is a wonderful resource for connecting writers from all over the world. Writing can be a very lonely profession but it doesn't have to be. Have fun. There's really no point in doing anything if it's not fun!
---
SADAF SHAHZAD
AUTHOR OF "THE LIES THAT COMFORT US" 
https://www.meraqissa.com/book/474
EXCERPT FROM HER BOOK:
"It was the last thought before her world went completely blank. Her delicate head was harshly smashed against the same tree that had shielded her seconds ago. Nothing stood between her and the bad man at that moment. The little girl lay still-her tears disappearing into the cold hard earth. The earliest stars were their only witnesses. They twinkled frantically in the darkening sky but no one noticed the small body being dragged away into the bushes."
FAVORITE LINE FROM THE BOOK: 
"If you let the monster take away both our babies, he wins."
1. When and how did you start writing?
I've been writing since forever. In school, I enjoyed creative writing and poetry (sometimes). I loved to create stories for assignments and just for fun.
2. Your favorite Pakistani and Western (non-Pakistani) author(s)?
I don't really have favorite authors as such because I like to focus on books rather than authors. Some of my favorite series have been written by Tamora Pierce, Michelle Sagara, Grace Draven, G. A. Aiken, Nalini Singh, Jay Kristoff, Laura Thalassa, Brent Weeks, Sherry Thomas, J. K. Rowling, Jim Butcher, and Kristen Britain.
3. Your favorite novel(s)? (Both from Pakistan and abroad)
Some young adult books include The Duff by Kody Keplinger and Leaving Paradise by Simone Elkeles. I love epic fantasy and paranormal romance. My favorites are mostly series like Song of the Lioness by Tamora Pierce, Codex Alera by Jim Butcher, Chronicles of Elantra by Michelle Sagara, Wraith Kings by Grace Draven, Psy-changeling by Nalini Singh, Nevernight by Jay Kristoff, Dragon Kin by G. A. Aiken, Night Angel by Brent Weeks, Green Rider by Kristen Britain and more.
4. Which author is your inspiration and why?
Every author I read inspires me in some way. Some inspire me to stay away from certain things LOL. The reason is probably the diversity of styles and perspectives. As a new author, I have a lot to learn. Reading a variety of authors shows me possibilities of how plots maybe executed or characters might be grown.
5. The motto you live your life by?
Love yourself.
6. Tell us about the book that made you become the finalist at Season 4 of "Stories Untold"?
The Lies that Comfort Us was tentatively titled Denial. This is the main theme of the story. I'm part of many women support groups where members anonymously share their experiences with child abuse. It made me realize that many people voluntarily blinded themselves to the truth. Anyone can be a predator. Statistics reveal that most victims/ survivors actually know their abusers. No one should be labeled safe. Once you let your guard down, the predator makes their move. I wrapped up the story by discussing the people who are forgotten in such cases and how they are victims too. A perfect family faces their worst nightmare when their only child is abducted. The biggest challenge was a lack of facts. Unless you talk to professionals or study papers written by them you won't understand this issue. I have explored this theme in depth but I still had trouble comprehending it.
7. Your message to aspiring writers?
Read negative reviews. Try to understand what readers dislike and why. Get maximum feedback from your target audience. Listen to opinions but don't lose your unique voice. The world doesn't need more of the same thing. Correct grammar is essential. Stay connected to your readers.
---
Hossein Syed
AUTHOR OF "CHILDREN OF THE WOODS"
https://www.meraqissa.com/book/437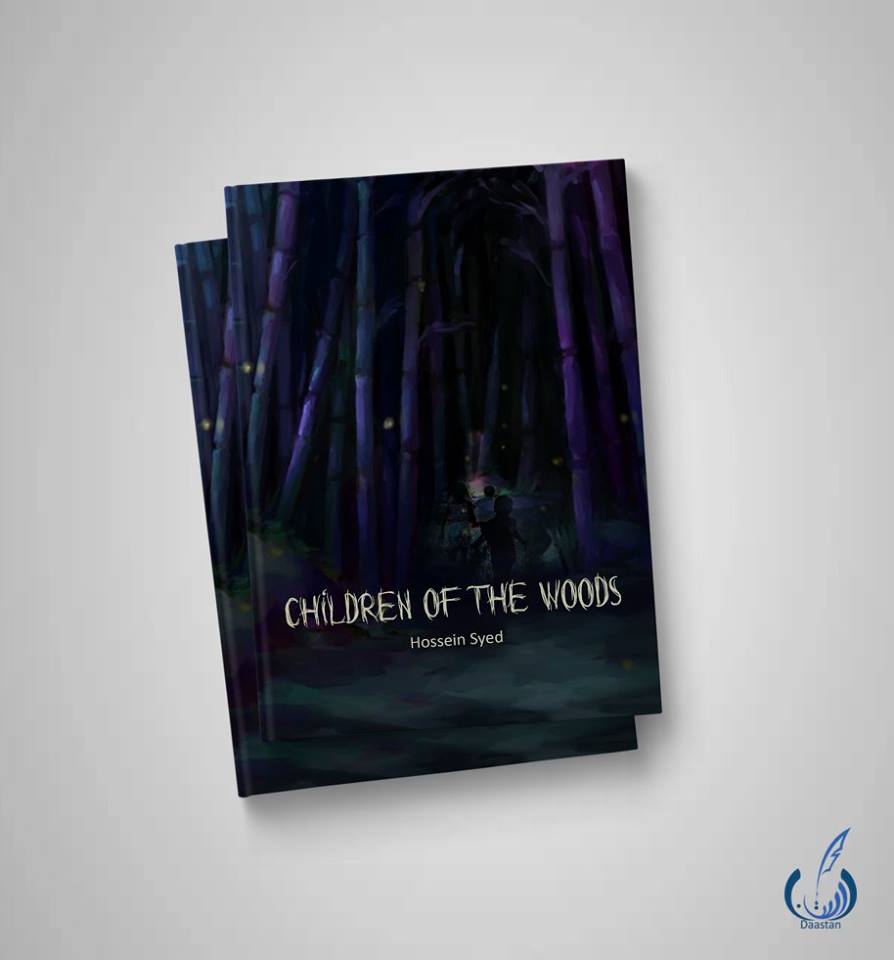 EXCERPT FROM THE BOOK:
"He pulled at the handle and ignored the rough sound the pintels put out; rusted through they were—rains were unkind to this house—always. He opened it enough to make a gap to pass through. Outside, a small bulb flickered overhead, sparsely lighting the big vase and dry flowers, petals fallen upon the mahogany table, his mother had put there. They were roses, dark and red, like blood, in the shadow. Cold robbed roses of a sweet hue, dulled their arms till they lost the strength and fell away from the calm—petals plucked before their time had come to fully bloom."
1. When and how did you start writing?
I started writing when I was fairly young—around seven or eight years old. My first experiments with writing were making small comic-books. Then I stopped writing in my early teens (for some inexplicable reasons) and picked it up again in my late teens. There wasn't even any reason for dropping the hobby; I suppose I'm just a whimsical individual.
2. Your favorite Pakistani and Western (non-Pakistani) author(s)?
I lean more towards poetry than prose. My favorites would have to be Sufi poets such as Nizamuddin Auliya and Shah Abdul Latif Bhittai. In English, I would say that Edgar Allan Poe, John Updike, Vladimir Nabokov, Charles Dickens, Emily Bronte, and few others really appeal to me as their style and structuring is very complex and almost poetic in nature. I've always preferred prose stylists over story-tellers, as there are so few of the former.
3. Your favorite novel(s)? (Both from Pakistan and abroad)
Perfume: The Story of a Murderer. It's a German novel, but it's truly one of a kind. The genius of Patrick Süskind is grossly underappreciated. I also greatly admire the prose—and the manner in which the language is used to create varied effects—of Updike, Lawrence, Nabokov, Poe, and Bronte.
4. Which author is your inspiration and why?
This is a hard one because my greatest inspiration has always been John Keats, closely followed by John Milton. The beauty of Keats verse, its sensuousness, dream-like, near-hallucinatory quality, is unmatched in my eyes. Yes, few other Nature and Romance poets are also inspirational (Shelly's Ozymandias and Blake's The Sick Rose and A Poison Tree are phenomenal, also), but Keats' is the sole reason why I ever picked up writing again. That and the manner in which Milton pushes the boundaries of language itself in Paradise Lost is an unprecedented feat; Satan is a brilliant character! In fact, if you haven't read these two, especially Keats', you've never read great Literature!
When it comes to narrative structuring, I prefer character-driven narratives (Russian and Japanese) to the western (predominately American and British) plot-driven narratives—in the latter, characterizations are almost always a demonstrative affair, as everything a character does is meant to drive the plot forward. That's a fairly limited approach, and, sadly, that's all we see due to the dominance of American pop-culture. I truly believe that variety is the spice of life, and more people should look into Russian and Japanese literature to truly understand characterization. So, my approach is to utilize more of the eastern approach, with smatterings of western narrative structuring. Choice, as in Kabuki and Noh Theaters, also plays a great part in my stories.
5. The motto you live your life by?
The bigger they are, the harder they kick your arse; better find some evasive maneuvers to outwit your competition.
6. Tell us about the book that made you become the finalist at Season 4 of "Stories Untold"?
The idea behind Children of the Woods was to flip heroic and Romance tales on their heads in different ways. The horror genre, for me, became the catalyst to drive home the whole theme: the atmosphere is created through the backdrop of night, forest, and other natural phenomena, such as wind, mist, rain, etc; and against this backdrop, a boy goes out with a trusty lantern (like a hero's sword) to rescue his female friend: another small child like him.
I wanted to try something a little unconventional, something which isn't done too often these days, and that's the play with colors and sounds in a manner that creates illusions of visual imagery—a Romantic-era technique.
It's, as I said, heavily inspired by Keats' works that are rich in … basically, vocabulary items that act as a substitute for color schemes in visual arts. In theater (and film, too) colors play a major role, especially in Noh and Kabuki theaters, and define a lot of tonal variations. I, too, tend to use words that work well with sound and colors—words that are meant to be read aloud; or, at least, I strive for this effect that tends to create substance through style.
7. Your message to aspiring writers?
Don't copy trends, especially script-orientated prose—it's an over-used and abused style of writing; create your own Style. It isn't easy, and it requires a lot of hard work and patience, but that's true for everything in life.
---
FATEMA BHAIJI
AUTHOR OF "HEROES & VILLIANS"
https://www.meraqissa.com/book/410
EXCERPT FROM THE BOOK:
"She thinks she is a boy. We had hoped that it would correct itself but my worst fears have come true. We need to fix this. She acts like a boy. She wants to dress like a boy. She wants to run around with boys. No matter what I try to do she just won't listen to me. I hope I can trust you to help me."
FAVORITE LINE FROM HER BOOK:
"We're different and they don't like anything different because they can't control it. We're outliers and they can't fit us into their equations so they have to correct us.
1. When and how did you start writing?
I think the first time I wrote something just because I wanted to was in the 9th grade when a teacher handed us a list of topics that we could write on during our off time. We were given a free hour to do what we wanted and I ended up writing three different stories, one of which called 'The Visitor' become the base of a novel I am currently working on.
2. Your favorite Pakistani and Western (non-Pakistani) author(s)?
Sylvia Plath is an all-time favorite writer and poet of mine. I actually carry around her collected poems and read them when I'm on the bus or waiting in line for something. As for Pakistani authors, I'm going to say Shazaf Fatima Haider but I might be slightly biased because she was one of my favorite teachers as well.
3. Your favorite novel(s)? (Both from Pakistan and abroad)
One of my favorite books is Girl Mans Up by M-E Girard. It explores the complex issues of gender, presentation, and sexuality in a way that the reader can easily empathize with and relate to the main character, Pen, as she navigates through friendship, family, and society. Kamila Shamsie's Kartography would be my favorite Pakistani book.
4. Which author is your inspiration and why?
Saying J. K. Rowling might be cliche but that's where I started reading and writing. One of my first stories was actually a complete rip off of Harry Potter: the trio of friends, the villain and the wise old wizard included. I also admire how she kept trying despite the rejection letters, that's important as writers.
5. The motto you live your life by?
Don't let the fear of other people's opinions let you define your life. I know we're only human and society shapes much of who we are but if you want to do something that makes real a difference there will always be people lining up to tell you all the ways that you're doing it wrong. Just persist, believe in yourself and above all be kind. That's my motto.
6. Tell us about the book that made you become the finalist at Season 4 of "Stories Untold"?
Heroes and Villains is a story about a young boy who feels he is born in the wrong body looking to find support from his mother. However, things don't turn out the way that he had hoped and the betrayal leads him down a dark path before he can find the light at the end of the tunnel again. To know more about it you can check out the story and leave your reviews at https://www.meraqissa.com/book/410.
7. Your message to aspiring writers?
Write the things that you don't want to because they scare you. They always make the best stories because they're often written from the heart and will end up connecting more with people. And don't get stuck editing early on, finish writing and then go back. Trust me, I get stuck re-re-re-editing before I'm even finished and those stories never get finished.
---
ASHUTOSH BANSODE
AUTHOR OF "THE DARK RUSE"
https://www.meraqissa.com/book/395
EXCERPT FROM THE BOOK:
"They had scary faces, their pangs protruding out of their mouths and their bloodshot eyes leering at me as they laughed mockingly. They closed in on me and were about to devour me…."
FAVORITE LINE FROM HIS BOOK:
"Let me be the star that my mother feels proud of and not the beautiful flower that could be plucked anytime. Let my mother see the light and not the sight of her flower dying." 
1. When and how did you start writing?
Most of the time people fail to acknowledge their true potential which is hidden under their self-imposed fears, lack of confidence and self-belief.  It is just that one step of confidence which has the power to alter the state of any situation and turn it into one of the glorious moments of your life. I have always struggled with confidence when it came to speaking in public, expressing my thoughts or displaying my qualities. It was on 4th September 2015 when I wrote my first inspirational article which reflected my introspective thoughts on giving that extra tug to yourself and doing things with confidence.
 2. Your favorite Indian and Western (non-Indian) author(s)? 
Arundhati Roy, A.P.J. Abdul Kalam, and Amitav Ghosh have always impressed me with their fine writing and powerful messages. My favorite non-Indian authors are Haruki Murakami, George Orwell and Khaled Hosseini who have always mesmerized me with their flawless and profound storytelling.
 3. Your favorite novel(s)? (Both from India and abroad)
'Norwegian Wood' is my favorite novel which is written by Haruki Murakami. I have also enjoyed reading his 'Blind Willow, Sleeping Woman' which is a collection of his short stories. Other books which have made an impact on me and my writing are – 'The Kite Runner' by Khaled Hosseini and 'The God of Small Things' by Arundhati Roy.
 4. Which author is your inspiration and why?
Haruki Murakami is my source of inspiration. The beauty of his writing lies in expressing various shades of human emotions and taking you to a whole different world as he explores suspense, romance, youth, and relationships. His stories can be very simple and very esoteric at the same time. The joy, the sorrow, the bewilderment and amazement that you feel while reading his books is a testament to his sheer brilliant art of story-telling!
 5. The motto you live your life by?
My motto is- 'Learn from all the experiences in your life. And improve!'
 6. Tell us about the book that made you become the finalist at Season 4 of "Stories Untold"?
'The Dark Ruse' touches upon various dark shades of our contemporary society. The story revolves around an adolescent boy, Rohan, who is still malleable to his experiences and the norms of our culture and society. It is a heart-wrenching mystery which unfolds as Rohan's mother delves into the encounters written in his diary only to realize that her son and family is trapped in a vortex of adversities. The book, although fictional, is based on the theme of child abuse and forays into the recent haunting events of inhuman exploitation. The book is an attempt to spread awareness and expression of my strong feelings about this subject.  
 7. Your message to aspiring writers?
Always write about things which you strongly feel about. I believe your creativity comes from the intensity of your feelings. Before writing always think about your audience and who do you want to address it to. Believe in yourself and create your own unique style. There's a different high in writing and touching peoples' lives. Be responsible, be change-driven and make an impact!
---
KARVAN envision to showcase the best and the brightest talent from Pakistan. If you have achieved an academic, personal or a professional milestone, or know someone who did, do send us a brief profile at talktokarvan@gmail.com.
Find us on Facebook @talktokarvan
---